MYMIND
MyMind works to ensure that everyone has easy and quick access to affordable mental health services. They address the issue of unequal access to mental health support by operating through self-referral and ensuring that appointments with accredited counsellors occur within 72 hours, which allows for fast and easy access to support before a problem gets worse. MyMind provides mental health services at reduced rates to unemployed clients, pensioners or full-time students. With this support, the client can lead a healthier and happier life, having a positive impact on families, workplaces and communities.
GIY GROWBOX
GIY addresses the challenge of diet-related illness arising from a lack of understanding and connection to healthy food. GROWBox makes growing healthy and delicious food easy, affordable and accessible, overcoming the barriers to food growing, unlike traditional horticulture products. GROWBox is a range of one-off and subscription growing kits from GIY, to make growing easy. A GROWBox is a complete, tailored kit with everything you need to grow your own food at home.
Ó CUALANN COHOUSING ALLIANCE
Ó Cualann Cohousing Alliance builds quality homes and offers them to those who could not afford to buy their own home on the open market. Their goal is to develop and support fully-integrated communities, to deliver well designed, top-quality, energy efficient homes at an affordable price, and to ensure its co-operative model for affordable housing can be replicated and scaled across the country. Ó Cualann is committed to building communities, and believes that integrated, affordable housing can have a transformative effect on wider social issues in Ireland.
The Shona Project
The Shona Project aims to educate, inspire and empower today's Irish girls to become tomorrow's strong, confident and curious young women. Through their school workshops, events and online community, The Shona Project provides girls with information, advice and a safe space to share their stories. The organisation is advised by its team of youth ambassadors, 14 girls aged 17-24, who come from all over Ireland. The ambassadors have all overcome their own unique challenges, and are dedicated to supporting others and creating social change.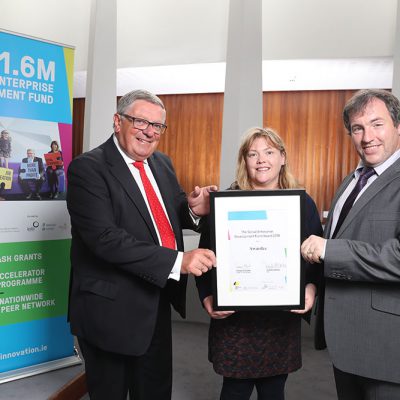 THE PEACE LINK
The Peace Link addresses peace & reconciliation, health and social inclusion in the Clones Erne East area through sport. The Building Relationships Through Sport project will build relationships, improve health, and promote inclusiveness for all in the Clones Erne East area. The club has activities for all ages, ranging from 4 to over 55, and hosts a wide range of sporting activities to encourage social interaction while helping people achieve their fitness goals in an inclusive atmosphere.
Meals4Health
Meals4Health provides fresh delicious ready meals for older people in their own homes, giving them independence and dignity in choosing their own meals. The meals are created in accordance with best practice in clinical nutrition that addresses individual needs and supports older people with prevention and recovery from illness, the promotion of health and wellbeing and by helping to reduce social isolation. Local communities are supported in looking after their older people, helping them to age well at home, and through the community partnership model they are creating opportunities for urban and rural community employment.
Recreate
ReCreate Ireland makes art materials and educational supplies accessible and affordable to every sector of the community for all kinds of creative purposes. Their goal is to inspire tomorrow's inventors, engineers and entrepreneurs by making unique and unusual open-ended materials freely available at a fraction of the price of high street art shops. They work with local and national businesses to collect unwanted or surplus items, which can be used in early childhood education, schools, colleges, special needs groups and community centres, or by individuals for art, craft, theatre and other creative projects.
Siel Bleu Ireland
Siel Bleu Ireland delivers life-enhancing exercise programmes to older adults and patient groups, helping tackle one of the biggest social issues: inactive ageing. They design their programmes with a preventive approach that benefits all adults, at any age, and at any stage of their lives, as well as promoting wellbeing of older people and people with chronic disease, ensuring that everyone has the capacity and self-confidence necessary to live an independent and happy life. Siel Bleu offers group exercise programmes in nursing homes/day care centres, with patient groups, in communities and one-to-one sessions in private homes, which results in programmes which have a real physical, social and psychological impact.
Tipperary Energy Agency
The Tipperary Energy Agency addresses local energy policies for the citizens of Tipperary. Sustainable Tipp is the planned energy transformation of Tipperary's housing, commercial, public and community buildings over three years. It is an opportunity for communities, farmers, homeowners and business owners to save energy, save money and become more sustainable. The main objectives of Sustainable Tipp are to promote and encourage greater energy efficiency in Tipperary, to reduce Tipperary's dependency on imported energy by encouraging renewable developments, to create employment through the deployment of renewable infrastructure and widespread energy efficiency upgrades, and to foster opportunities in energy efficiency and production in the agricultural sector.
Foodshare
Foodshare addresses the issues of food poverty for people in low income households and the increasing amount of food waste in Ireland. They act as a foodbank and supply depot where the produce collected is stored, sorted, graded and distributed to charities across Kerry. Their new social store will bridge the gap between the conventional supermarket and the foodbank, and will provide people in low income neighbourhoods with a more dignified way to access donated foodstuff.
ST. GABRIEL'S ORTHOTICS SERVICES
St. Gabriel's Orthotics Services is dedicated to the care and education of children with multiple physical disabilities. They provide not-for-profit, client-centred quality orthotic treatments for children and adults in the midwest. Their complex accommodates a special needs school, an outpatient therapy centre, a branch of the Central Remedial Clinic, a hydrotherapy pool and a regional orthotics service for their clients.
Sensational Kids
Sensational Kids bridges the gap between public and private services by providing affordable and accessible early intervention services for children with additional needs, who cannot access or afford vital early intervention to help them reach their potential. Over 4,700 children have already benefited from its subsidised speech and language therapy, occupational therapy and play therapy. Each month, Sensational Kids saves families €20,000 in therapy fees, bridging the gap between public and private services for children in need.
Social Farming Ireland
Social Farming Ireland coordinates social farming activities in Ireland, by providing placements on farms for a range of people including people with disabilities, those recovering from mental ill health and brain injuries, young people, older people, long-term unemployed, and asylum seekers. They are focused on working with families of farmers or growers, where small numbers of people benefit from individualised support and the opportunity to take part in day-to-day farm activities in a non-clinical environment. These social farms operate with a strong emphasis on a person-centred approach, community connections, social inclusion and on enabling participants to do 'ordinary things in ordinary places'.
Sailing into Wellness
Sailing into Wellness helps people build their recovery and supports young people at risk by supporting healthy ways to look after their physical and mental wellbeing. It provides a natural environmental programme where sailing is used as an educational and therapeutic activity. A key component is empowering people to cope with a challenging natural environment.
FIRST FORTNIGHT
First Fortnight is a charity that challenges mental health prejudice through arts and cultural actions. They address the needs of the homeless community and those at risk of homelessness by offering free mental healthcare through their centre for creative therapies. Their goal is to provide the highest standard of creative therapies to marginalised communities affected by mental ill health, and to create a consistent space where citizens can be inspired through arts events and experiences to talk about mental health issues in a non-scripted manner.
WALKINSTOWN GREEN SOCIAL ENTERPRISES
Walkinstown Green Social Enterprises works with people who have been distanced from the labour market with a history of poor progression or a lifetime of minimum wage jobs. The project provides jobs through four different programs, including their Community Garden Centre and Community Coffee Shop, which provide training and increased employment and experience options for people with disabilities. Their goal is to develop an inclusive facility that helps to break down barriers and perceived stigmas of people with disabilities in order to showcase the abilities they have.
Third Space
Third Space addresses the issue of providing active, creative, social community hubs for residents and workers in parts of Dublin where redevelopment occurred without providing such spaces. They raise money from their two coffee shops that is invested back into the community; they support employment programmes for people seeking to get into work, help local projects, contribute to exhibition space for artists, and fund a small loan scheme to food businesses in developing countries.
The Cornmarket Project
The Cornmarket Project addresses issues of long-term unemployment for ex-prisoners, ex-offenders and those recovering from addiction. The programme gives people a chance to see a career path, gain confidence and to obtain a reference. The project uses a totally integrated approach to dealing with complex social issues through a range of programmes and supports for people in trouble as a consequence of criminality, drugs and alcohol. The project also offers support to the families of these people, and has developed a range of restorative justice programmes supporting early and effective interventions by involving young offenders in a range of "community payback" programmes, thereby contributing to breaking negative cycles of addiction and criminality.
Dress for Success
Dress for Success works towards the economic independence of women by providing free career development tools and a support network. They offer professional clothing and styling advice in advance of job interviews, interview preparation sessions with experienced HR professionals, sector-specific educational workshops, and mentoring programmes.
Helium Arts
Helium Arts provides child-centred creative and play-based interventions, through Creative Health Hubs which connect chronically-ill children with their peers and professional artists in hospital and healthcare settings. Helium collaborates with professional artists to research, develop and pioneer arts practice in partnership with healthcare professionals in order to make chronically ill children happier and more confident, and to distract from their illness while feeling less alienated in the hospital environment.
Generation Accommodation
Generation Accommodation addresses both social isolation among senior citizens and the lack of affordable accommodation for students and young professionals. In an effort to combat loneliness in seniors and the inability to find affordable housing for young people, they pair senior citizens with students or professionals. The seniors gain companionship and earn rent, while the young person has affordable accommodation near their place of work or study.
TechIreland
TechIreland addresses the lack of up-to-date, public and agenda-free information about innovative companies, regions and funding in Ireland. They track multinationals in Ireland, global investors in Irish companies, and product innovation hubs across the country. This data is used to attract more talent, more funding and more attention to Ireland as a great location to start and scale an innovative company. They also promote gender equality by using their data to track female founders, create awareness around female funding goals, and create a community where women can support and educate each other.