Compassionate Culture Network
The Irish Hospice Foundation is a national charity that works to ensure the best end-of-life and bereavement care, for all. Through their Compassionate Culture Network Programme, they use creative practice to establish safe places where people can talk openly about the impact of loss and grief. Having support from the Impact Fund for Munster means that they can expand and run their arts and creativity programme in Cork, Limerick and Kerry.
Waterford Healing Arts Trust
Waterford Healing Arts Trust (WHAT) is based at University Hospital Waterford (UHW) and brings arts experiences – music, creative writing, painting, storytelling – to the bedsides of patients in healthcare settings to soften the clinical environment and reduce anxiety and stress for patients, family members and staff. This award will allow WHAT to learn more about the impact of their programme on patients, their family members and healthcare staff, thus aiding advancements in project delivery, awareness raising about the benefits of arts and health practice and to advocate for the future sustainability of the sector.
Creative Lives On Air
Creative Lives champions community and volunteer-led creative activity and works across the UK and Ireland to improve opportunities for everyone to be creative. Creative Lives On Air is a dynamic partnership between Creative Lives and local radio stations which shines a spotlight on everyday creativity through radio broadcasts, boosting well-being and reducing isolation. Through the Impact Fund for Munster, they will start a new Creative Lives On Air project in Ireland for the first time, working in partnership with Red FM to develop a sustainable network of support for creative participation in Cork.
Song Seeking: Connection & Belonging Through Group Singing
Sing Ireland is Ireland's national body for the support, development, and promotion of all forms of group singing. The Song Seeking Project will leverage the universal language of music and singing to build a sense of community, social connection, cultural sharing and appreciation amongst communities in temporary accommodation settings across the Munster region. It will nurture personal well-being and promote improved mental health, both widely proven benefits of group singing, which in turn will support integration and cohesion.
Northstar Family Support Project
The focus of the work done at the Northstar Family Support Project is to support families in the Limerick region who are affected by substance misuse within the family system. The Impact Fund for Munster award will allow the NorthStar Family Support Project to focus on areas of County Limerick that were not possible up to this point. The funding will allow them to recruit a Community Development worker to focus on Co. Limerick, to create awareness and engagement of the supports available to families living in the county that have a loved one struggling with substance misuse.
Brain Buddies
Brain Buddies by Kerry Parents and Friends Association aims to develop an accessible programme for brain health and make it available to those who need it. Brain Buddies will specifically help people with Down syndrome as they are vulnerable to Alzheimer's dementia. Research carried out at Kerry Parents and Friends Association showed that when people with Down syndrome buddy up with a support person to do activities that are a good fit with their interests and abilities, behaviour change towards better brain health happens, and can be fun.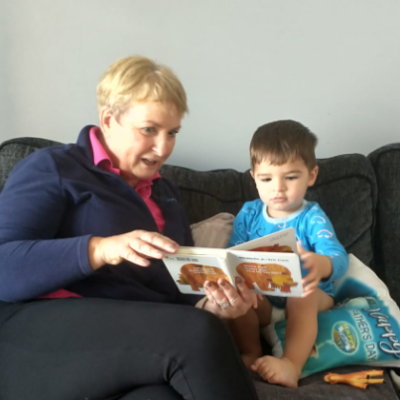 Limerick Parent Child Plus
Garryowen Community Development Project is a voluntary organisation in Limerick City, delivering the ParentChild+ programme across the city. ParentChild+ is an evidence-based, 'learning through play experience' where twice-weekly home visits strengthen the natural bond between parent & child and encourage the parent as the child's first and best teacher. The Impact Fund for Munster award will enable the ParentChild+ programme to reach more families, with a focus on marginalised families whilst also allowing the organisation to plan for and place the programme on a sustainable and secure footing.
Blue Box
Blue Box Creative Arts Therapy Centre is a groundbreaking project that gives children a voice, many for the first time. It's the first project of its kind in Ireland dedicated to delivering creative arts therapy to the most disadvantaged and marginalized communities. It provides the support and a safe container these children desperately need, as play is the first language of every child, using play, art, music, drama/dance speaks directly to the individual in ways they understand and can express their inner world of hurt through.
Recovery Education Programme
Aiséirí provides community and residential addiction treatment services to support young people, adults and their families overcome addiction and lead meaningful lives in recovery. Their services support people along the journey of recovery from residential detoxification, residential primary and secondary treatment programmes to community-based continuum of care programmes. Their values – excellence, recovery, respect, compassion and hope underpin their work. They are committed to recovery and believe in the potential of each person who accesses their service as they strive to support them to live meaningful lives in recovery.